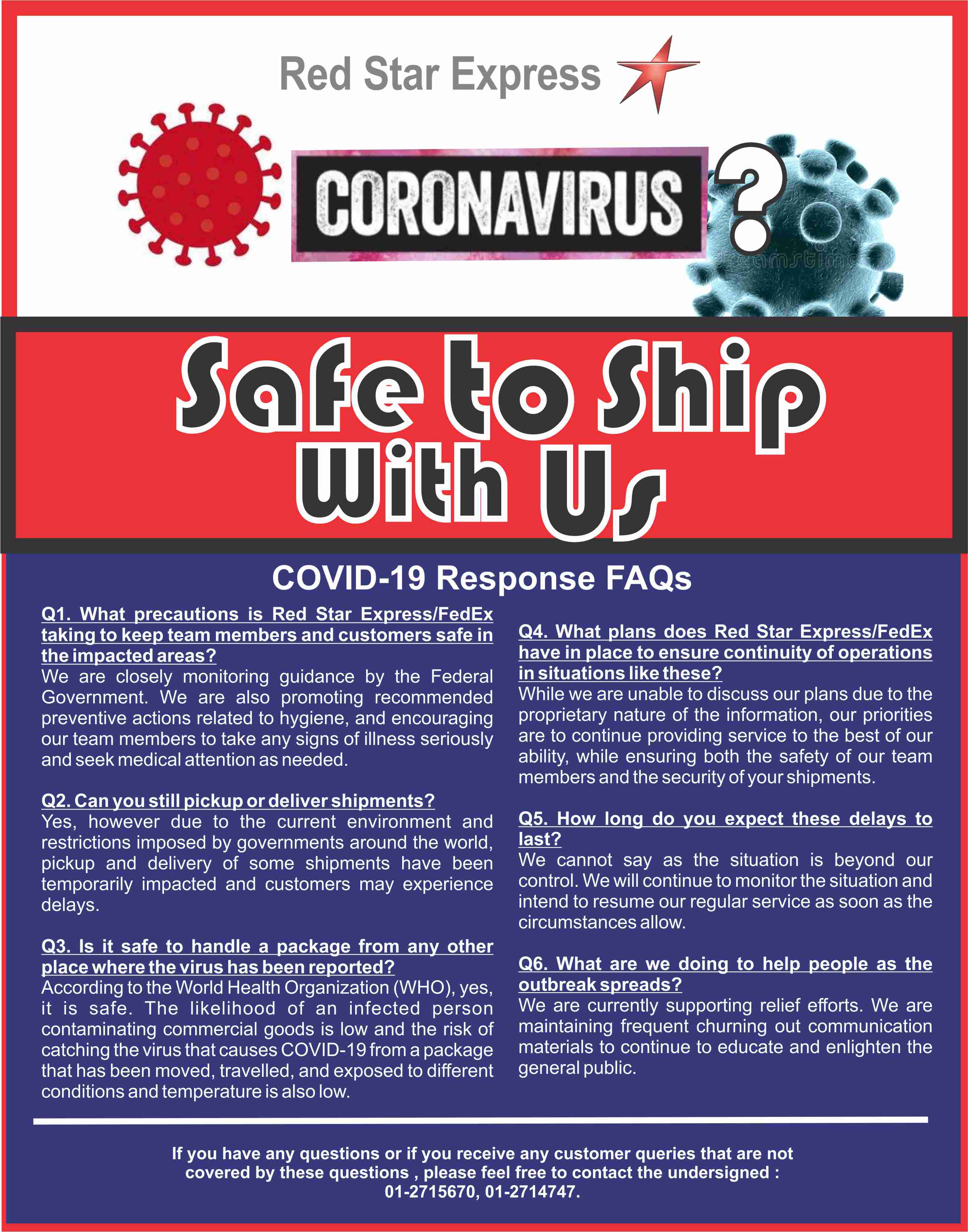 RESPONSE TO CORONA VIRUS (COVID-19) PANDEMIC
Dear Esteemed Customers & Stakeholders
We recognize the trust you place in us when we deliver to the doorstep of your homes, shipping docks or business premises. That's why we would like to share an update on the actions we are taking at Red Star Express to keep you and our team members safe amidst the COVID-19 outbreak.
"Safety Above All" is something we take seriously at Red Star Express and we are listening to recommendations from the World Health Organization (WHO) and other public health organizations, as we strive to help protect our customers, our team members and other stakeholders.
We are giving our team members facts about COVID-19 and reminding them to follow simple but effective steps to keep them safe by observing basic hygiene rules such as frequent handwashing and social distancing. We are disinfecting our facilities and equipment as appropriate and we are encouraging our team members to take any signs of illness seriously and seek medical attention as needed.
In light of the COVID-19 outbreak, you may have wondered, "Is that package safe to touch?" The WHO has answered that question for us. They've made it clear that it is safe to handle a package, even if it comes from a place where the virus has been reported. In addition, basic Personal Protective Equipment (PPE) are provided to aid our handling of shipments of all shapes and sizes.
We recognize and appreciate the critical role we play in the global supply chain and your business, and we are currently implementing our contingency plans designed to help us continue to operate and limit any impact to your business while keeping safety at the forefront.
As you are well aware, there are restrictions on passenger traffic around the world, however, parcel and cargo movements are not prohibited. For complaints and enquiries, you can contact our Customer Service on +2348165989915, +2348038072449, +2349063059845., 01-2714747 and 01-2715670.
Thank you for trusting us to handle your business now and always.