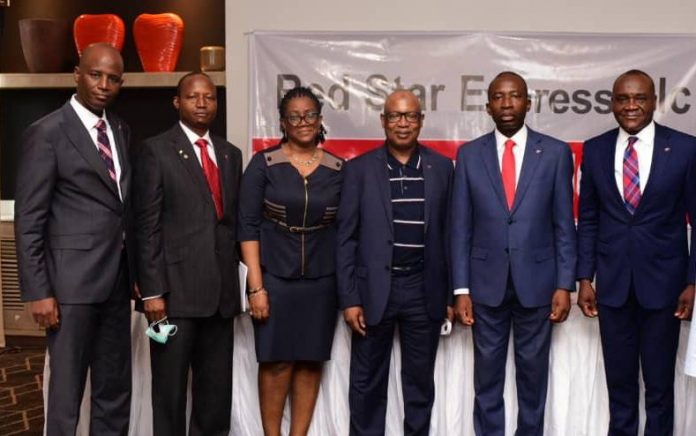 Red Star Reports N9.46bn Turnover At 2021 AGM
Red Star Express Plc, has recorded a turnover of N9.46 billion for the financial year ended March 31, 2021.
The company recorded a Profit Before Taxation (PBT) of N220.79 million and total of N150.07million as the Profit After Tax (PAT).
In the year under review, Red Star Express Plc grew its balance sheet size by N211million with total assets and shareholders' funds closing at N7.5billion from N7.3billion in the previous year, which represents a 2.9 per cent growth.
This was revealed by the Chairman of Red Star Express, Alhaji Suleiman Barau, at the recently concluded 28th Annual General Meeting (AGM) of the company.
The 11 shareholders who attended the meeting physically and 178 shareholders who attended the meeting by proxy via zoom, holding about 543,674,009 units of shares, voted that 5kobo for every 50kobo ordinary shares be distributed to stakeholders as dividend and that N8million be given as Director's remuneration.
They also urged the company to pay up the dividend as soon as possible rather than wait for seven days.
Above all, Stakeholders applauded Red Star for its commitment and asserted that there was still room for improvement, hence encouraged the company to do better.
The company introduced its new directors to stakeholders. They are Mr Peter Surulere Aletor and Chukwuemeka Emmanuel Ndu, both of who hold the title of Non-Executive Director. The company stated that the duo were appointed after a rigorous exercise of electing qualified persons.
While Mr Peter Aletor is an Accountant by training with over 25 years experience in Stockbroking, Mr Chukwuemeka Ndu is an Accountant with over 35years experience in Accounting, Money market, Project Finance, Audit and Tax consulting.  According to the Chairman, Red Star Express Plc, Alhaji Suleiman Barau (OON), Red Star is committed to remaining steadfast in the welfare of stakeholders.
"We maintained our promise of remaining steadfast in our policy of ensuring that the social and economic welfare of our stakeholders are preserved and sustained through the Red Star Foundation. The Company has constantly reviewed the activities of Red Star Foundation and has expanded into new areas".
"Red Star Express, through its subsidiaries, supported some non-governmental organisations in the free delivery of palliatives in several local communities within Lagos and its environs. Red Star Logistics particularly partnered with United Way Greater Nigeria (a US origin NGO) to facilitate the delivery of large quantities of food items and other consumables to various communities. Our top priority remains the health and safety of our employees, customers and the communities we serve by providing resources for health and safety in all our facilities across the country and our francophone branch offices, whilst also leveraging technology-driven solutions to offer services and remain committed to our customers' day-by-day".
"The Board and Management have a solid commitment to continuously deliver a strong and sustainable performance that enhances maximum returns to our stakeholders. As we march forward in the year with confidence and optimism, knowing well that our businesses have been repositioned to take advantage of technology and key opportunities, we stay focused in the execution of our growth strategy", he added.
The Chief Operating Officer, Dr. Peter Olusola Obabori, appreciated shareholders for their confidence in Red Star Express.
Red Star Express Plc is a Licensee of Federal Express (FedEx) Corporation, the world's largest delivery solutions provider. It has over 150 offices in Nigeria, with international offices in Niger Republic, Burkina Faso and the Benin Republic. Its network spans over 1,500 communities in Nigeria and 214 countries worldwide.
Red Star Express Plc is made up of 4 divisions and business units specializing in areas such as Express Delivery, Logistics, Freight, Outsourcing Services, Supply Chain Management, E-Commerce Facilitation, Printing and Packaging, E-Archiving, as well as Agro Trade Logistics.