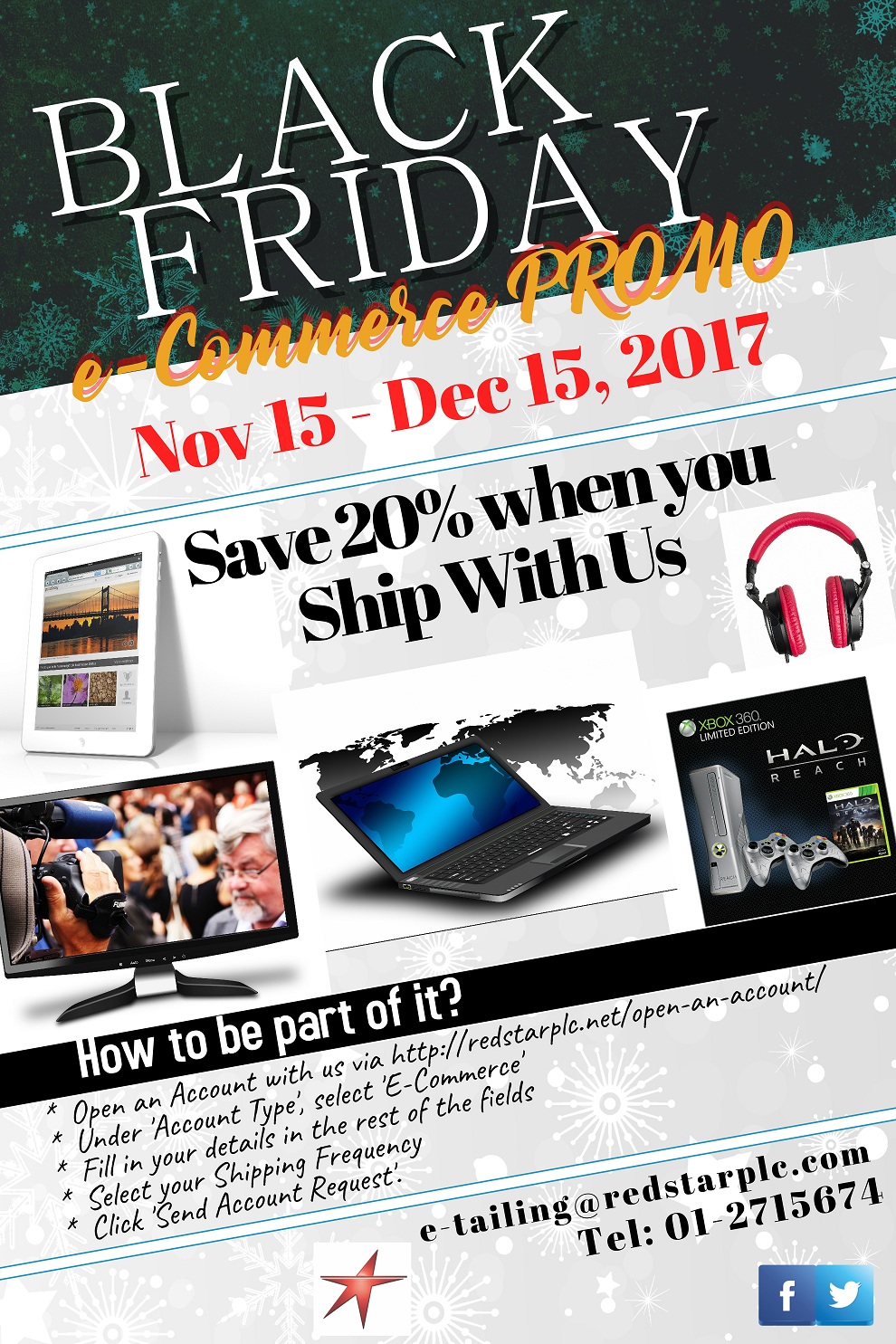 E-Commerce Black Friday Promo Continues
With the festive season fast approaching, the Red Star E-Commerce Black Friday Promo remains in full swing as the company looks to generate more shipments from e-commerce merchants. The promo commenced on Wednesday 15th November, 2017 and it is set to run until Friday 15th November, 2017; making it a month-long promo.
The promo is offering e-commerce merchants a 20% discount on their shipping within this period while also giving them ZERO charges on returns. This means that they ship for 20% less (in terms of cost) and they pay NOTHING if an item has to be returned to them.
The promo is aimed at offering e-commerce merchants the chance to ship more to their customers using the Red Star E-Commerce Solutions. The E-Commerce Solutions Platform offers logistics solutions to e-commerce sites looking to expand their customer reach; both locally and internationally. Services include Prepaid and Cash-On-Delivery facilities, Drop-off and Pick-up centres in all Central Business Districts nationwide, Consolidation and Retrieval services for customer goods.
Staff members are thereby encouraged to spread word of this promo to reach as many people as possible. For merchants to be a part of the promo, all they have to do is open an e-commerce account on the website (www.redstarplc.com). They should select 'E-Commerce' as the account type and send the request for the account to be created. Once the account is created, they can start shipping to enjoy the benefits of this promo.
NOTE: Existing Clients Do Not Have To Open New Accounts To Be Part of the Promo.