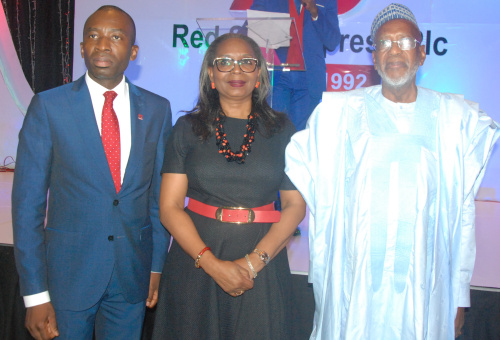 Celebrating 25 Years Of Excellence
It all came to a climax last Thursday (12th October, 2017) when Red Star Express Plc celebrated its 25th Anniversary in grand style at Eko Hotels & Suites. The event was well attended by top executives from leading companies and organizations in different sectors of the Nigerian economy. Also in attendance were important dignitaries and stakeholders.
Key Mentions include Barrister Asiwaju Bisi Adegbuyi (Postmaster General of the Nigerian Postal Service), Dr. Ishaya Diwa (General Manager, Courier Regulatory Department (CRD)), Maher Hasbini (Managing Director, Middle East, Indian Sub, Africa and Turkey Region at FedEx Express), Sonny Allison & Patrick Nwosu (Founders, Red Star Express) and Dr. Mohammed Koguna (Chairman, Red Star Express Plc).
Highlights of the event included the screening of the 25th Anniversary Documentary, the unveiling of the new company website, the cutting of the Anniversary cake, and the presentation of Special Recognition awards for selected individuals & organizations. The high point of the event has to be the outstanding Keynote lecture delivered by Mrs Ibukun Awosika (Chairman, First Bank of Nigeria Limited and Keynote Speaker at the event). She spoke on the topic 'Building Enterprises for the Long Haul' and received a standing ovation for the manner in which she delivered the lecture.
Speaking of awards, selected members of staff were recognized for their service to the company over the last 25 years. Awardees included Anna Ekuouorhore (Billing Manager), Henry Jeariogbe (FSR, Lagos Island), and Samson George (Senior Supervisor, Central Admin.). Other awardees included former Managing Directors of the Companies (Tonye Ofuani, Isaac Orolugbagbe, & Sule Bichi), founders of the company (Sonny Allison, Patrick Nwosu & Eddy Olafeso), the Postmaster-General, NIPOST (Asiwaju Bisi Adegbuyi), Keynote Speaker of the event (Mrs Ibukun Awosika), Managing Director, Middle East, Indian Sub, Africa & Turkey Region at FedEx Express (Maher Hasbini) and the companies that have supported Red Star Express over the years (Diamond Bank, JSP Communications, Uwensuyi Edosomwan & Co & Kungo Rock Investments Limited).