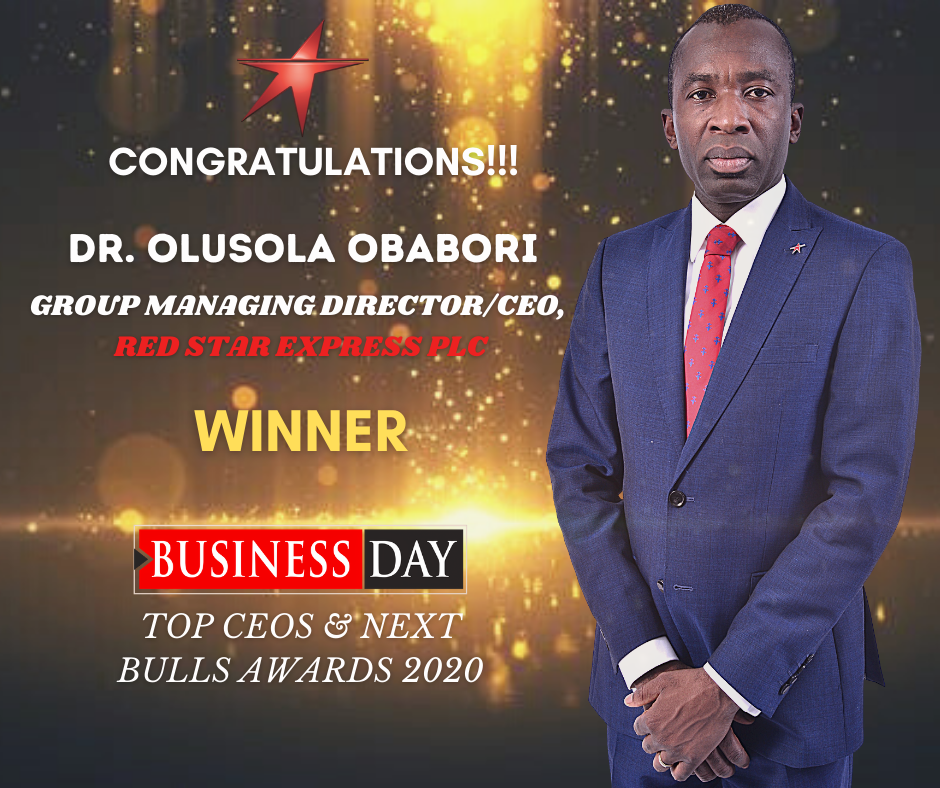 DR OBABORI WINS TOP CEO AWARD
September 2020 has kicked off on a good note at Red Star Express Plc as the company's Group Managing Director, Dr. Sola Obabori, has been selected as a winner at the Top CEOs and Next Bulls Awards. The event, organized by BusinessDay Media and The Nigerian Stock Exchange, is billed to recognize corporate leaders who has steered their respective companies to reach new milestones over the last 12 months.
In a statement released by BusinessDay Media, the theme of this year is "Advancing Against All Odds"; which seeks to celebrate the companies who have recorded growth despite the peculiar challenges facing the Nigerian economy. "The esteemed Chief Executives selected have been instrumental in leading their respective companies through this difficult time; providing inspiration and hope for several other business leaders not just in Nigeria, but the world in general".
In accepting his award, Dr Obabori thanked the organizers of the event for the recognition; adding that the workforce at Red Star Express Plc deserves the credit for sustaining the company. "This award is for Red Star Express Plc and all the exceptional staff members in it. They are the reason for our sustained growth and are all equally deserving of this accolade".
Red Star Express Plc is a Licensee of Federal Express (FedEx) Corporation, the world's largest delivery solutions provider. It has over 150 offices in Nigeria; with international offices in Niger Republic, Burkina Faso and Benin Republic. Its network spans over 1,500 communities in Nigeria and 214 countries worldwide.
Red Star Express Plc is made up of 4 divisions and business units specializing in areas such as Express Delivery, Logistics, Freight, Outsourcing services, Supply Chain Management, E-Commerce Facilitation, Printing and Packaging, E-Archiving, as well as Agro Trade Logistics.