CUSTOMS TO RED STAR: KEEP PAYING YOUR DUES AND WE'LL BE ONE HAPPY FAMILY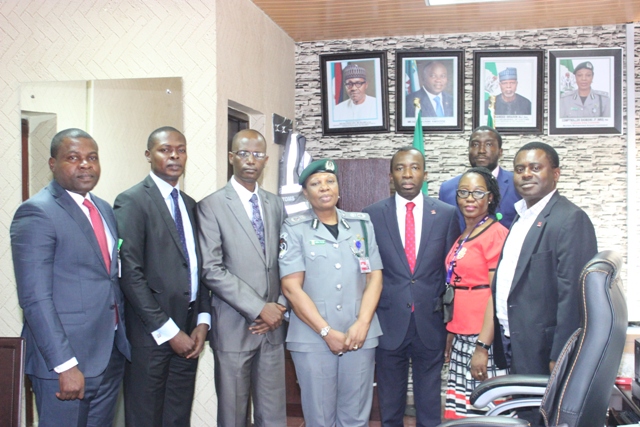 The Nigerian Customs Service has urged Red Star Express Plc to continue paying its dues so as to ensure the good relationship the company has enjoyed with the Service over the years. This was stated by the new Area Comptroller of Muritala Muhammed International Airport Command, Dr Jane Shoboiki, during a courtesy visit by Red Star Express Plc to her office on Tuesday.
Dr Shoboiki stated that her office has been tasked by the Federal Government to improve on its performance from last year, which saw the Service record over a trillion naira worth of revenue. "You know once you hit a target, they give you a higher one and so we are working as hard as we can to reach that target; so we need your support. Pay your dues on time and when due, and we will be one happy family" she said.
Led by the Group Managing Director, Red Star Express Plc, Sola Obabori, the visit was to welcome the new Area Comptroller and continue the good relationship between Red Star Express Plc and The Nigerian Customs Service. Also in the delegation were the Executive Director (Finance and Administration), Auwalu Babura, Deputy General Manager (International Operations), Inemesit James-Okoro, Divisional Managing Director (Red Star Express), Charles Ejekam, Divisional Managing Director (Red Star Freight), Tonye Preghafi, Deputy General Manager (Red Star Agro Trade Services), Mudiaga Okumagba, and Assistant General Manager (Administration), Abdulkadir Koguna.
Sola Obabori congratulated Dr Shoboiki on her new role and stated that Red Star Express Plc is looking to work with her in order for her mandate to be accomplished. "We have enjoyed a very good relationship with the Nigerian Customs Service for over two decades so this visit is to ensure that the relationship continues to endure" he added.