REFRIGERATION A MAJOR REQUIREMENT FOR AGRO-LOGISTICS IN NIGERIA- SOLA OBABORI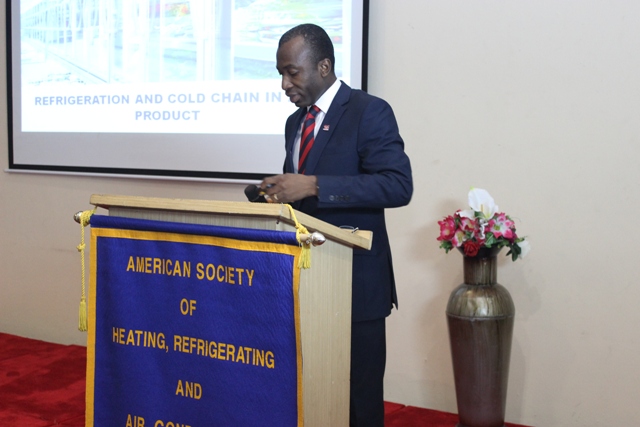 The Group Managing Director, Red Star Express Plc, Sola Obabori has urged engineers across the country, particularly those specializing in Heaters, Air Conditioners and Refrigerators, to come up with solutions that will help the Agro-Allied industry; especially solutions that address the issue of refrigeration.
Sola Obabori stated this during his lecture delivered at the Distinguished Lecture of the American Society of Heating, Refrigerating and Air-Conditioning Engineers (ASHRAE) held at Sheraton Hotel, Lagos on Thursday last week.
The lecture, held for the 5th year running, was organised by the Nigerian Chapter of ASHRAE to address issues within the Heating, Air Conditioning and Refrigeration space in the Nigerian economy. Every year, distinguished lecturers are brought in to speak on the role of ASHRAE in improving other industries in the country. This year's lectures attracted ASHRAE delegates from USA, Turkey and Pakistan.
The lecture delivered by Sola Obabori, titled 'Refrigeration and Cold Chain in Agro Products', addressed the issues faced by the Agro-Allied industry, especially in the preservation of agro products as they are moved from the farm to export destinations. "Millions of food products are wasted on a daily basis, and the major issue surrounding this is that of cold storage facilities" he stated. He added "Nowadays, in developed countries such as the USA and even South Africa, there are special trucks that are compartmentalized to store different agro-products at varying temperatures. This is what we can emulate here in Nigeria and it is my belief that ASHRAE Nigeria has the professionals, seated in this room, to achieve this".