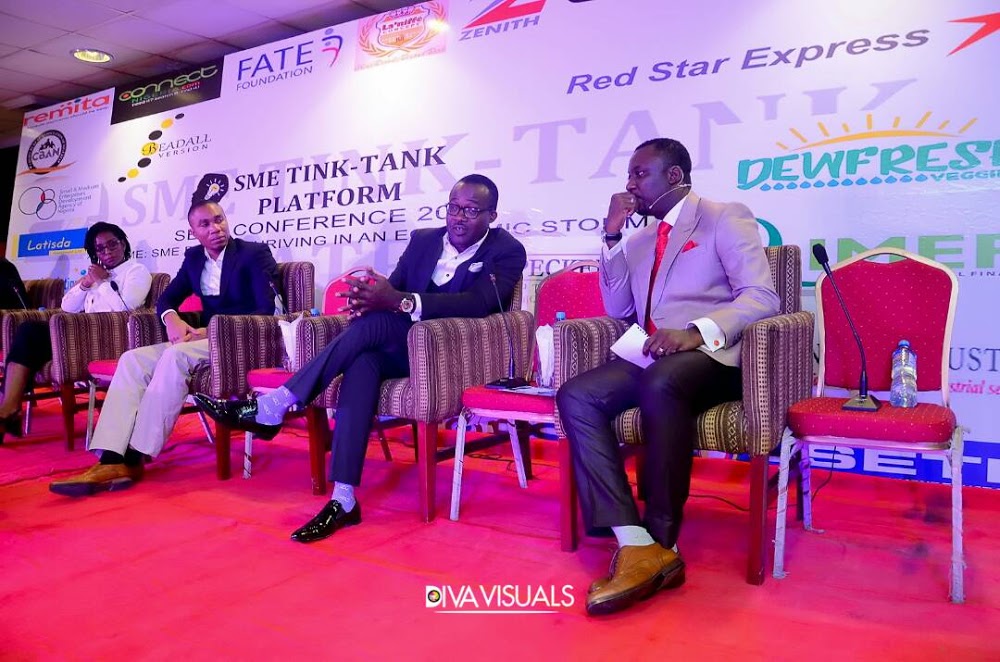 Red Star Express Sponsors SMEs To Attend SMETT SEED Conference
As part of its support for the SMEs under the SME 1000 platform, Red Star Express sponsored 10 SMEs under the platform to attend the SME Tink Tank Platform (SMETT) SEED Conference. The conference was held last Friday at the Academy Inn where different SMEs were brought together to meet with industry leaders and motivational speakers who spoke on the topic 'Thriving in an Economic Storm'. According to Sola Dawodu, the event's convener, SEED means Sustainability, Economic and Enterpreneurship Development. Over 250 SMEs were in attendance while four speakers took turns to make presentations on the topic for the event.
Among the speakers were Adenike Adeyemi (Executive Director, FATE), Olatunji Ope (CEO, Unlock Consulting), Nneka Okekearu (Deputy Director, Enterprise Development Centre, Pan-Atlantic University), and Victor Ugorje (Lean Sigma Sensei). Presentations were also made by representatives of Remita, Emzor, Printivo, and the Credit Bureau Association of Nigeria (CBAN). These presentations were about the products and services of the companies being represented at the event.
The SMEs sponsored by the company included Victor Ogunsola (The Fount Company), Mercy Osa-Oni (Mersie Inspires), Ola Abiodun (Mara Sikyor Africa), Roli Okoregbo (Kaizen Healthcare Services), Dolapo Oluwole (Clace Clothing), Joshua Adeyemi (Leisures Stores), Emmanuel Abilewa (Management Education), Abdulazeez Abdulwahab (Spanzmart), Osifo Praise (Beauty Lounge), and Engr. Adebayo Yaya (Baylake Nigeria Limited).
The SMEs sponsored by Red Star Express Plc, to attend the event, expressed delight at the kind gesture shown to them by the company. According to Victor Ogunsola (The Fount Company), he was very happy with the event and he learned so much by attending. Mercy Osa-Oni (Mercie Inspires) thanked Red Star Express Plc for sponsoring her to attend the event. Roli Okoregbo (Kaizen Healthcare Services) also echoed Mercy's point, adding that she had a good time at the event.
The SMEs also stated what they learnt at the event, with most of them stating that they learnt about making sure that their businesses offer value to their customers. "What keeps a business's head above water in times of economic downturn is the value. Value creation is key to business development and sustainability" said Victor Ogunsola. Roli Okoregbo continued in the same vein by saying "For me, it's how to be able to work on my business and how I should be able to take time off my business without it collapsing". Needless to add, the event was a great experience for those who attended.